James B. Bonham Elementary School. Harlingen
Year Built – 1953
Architects – Cocke, Bowman & York
Text and Photos – Stephen Fox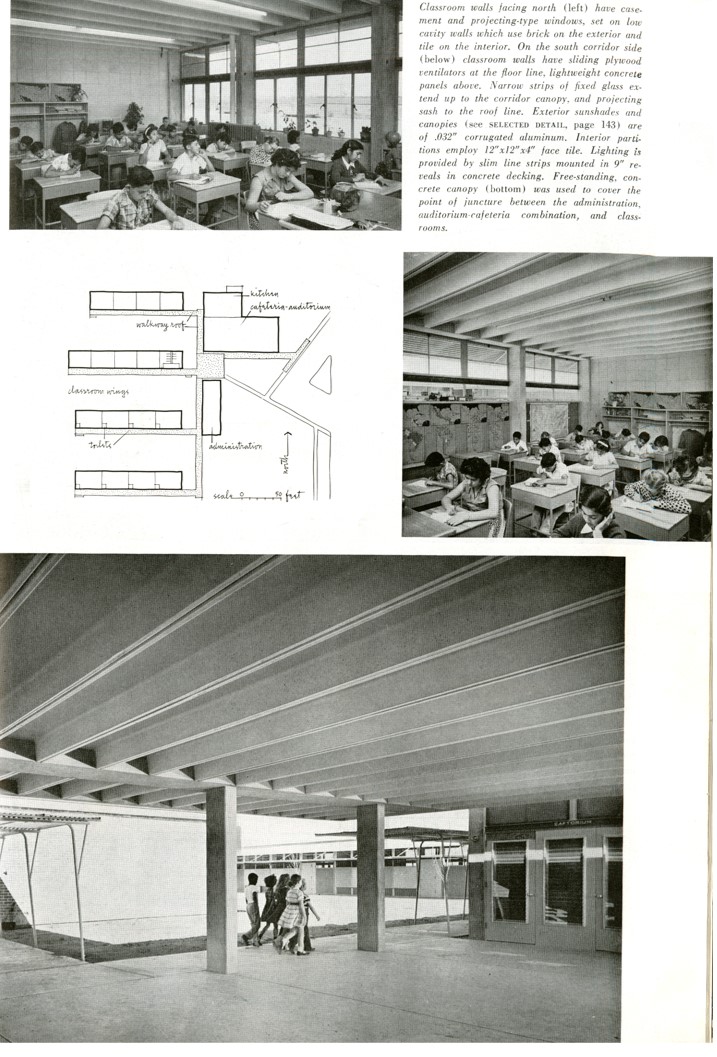 The Architect and His Community: Cocke, Bowman & York: Harlingen, Texas
The first part of this article is posted under the Who's Who tab of RGVMod. This in an excerpt of the continuation of this article published by Progressive Architecture 36 – June 1955- 102-115
"The firm – Cock, Bowman & York, engaged in the design and construction of schools. To illustrate the wide range of solutions emanating from this office we have chosen:
1- An elementary school in Harlingen employing concrete.
Though the architects do not consider one solution adequate for all requirements, they firmly believe that each school plant must have a "common denominator" a pattern which will tie all of the parts together to form one harmonious whole.
The common denominator in the Harlingen building is the uniform span-height relationship of the concrete parts. Rectangular concrete columns occur regularly 10'3/4" on centers. Flat marginal beams, running longitudinally at the top of window walls, tie both columns and precast decking together. Foundations are similar to York house, using an integral beam and slab on fill with grade beams along the column lines. A fireproof building at a low unit cost was the main advantage of this structural system. Meritt & Roe was the General Contractor for this school."
James B. Bonham Elementary School, Harlingen, 1953, Cocke, Bowman & York
…while on the affluent, Anglo-American east side, James B. Bonham Elementary School of 1953 was built of non-combustible concrete frame construction and equipped with an auditorium-cafeteria, an administrative wing, and other facilities that school district officials judged Crockett could do without.