Sun Valley Hall of Fame Mall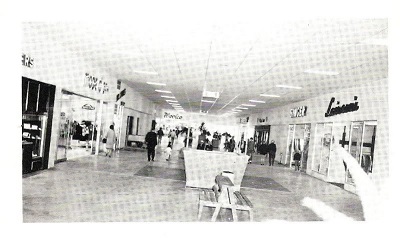 Being the daughter of a perpetual shopaholic I was well aware of the location of every single fashion shop and boutique in every corner of the Rio Grande Valley. My mother would not hesitate to drive anywhere to find the latest trends. This is why Sun Valley Mall in Harlingen is still vivid on my mind. I remember the shoes she bought me there because they were the envy of my middle school friends.
Lately, like many other malls of the era, Sun Valley Mall is slowly losing its original midcentury design. It was so Avant-garde for 1969 that finding it featured on a Mall Hall of Fame website stirred up all kinds of good memories, and dreams surely triggered by nostalgia.
It is one of the last malls of this era in the Rio Grande Valley, but it is still there, and maybe, just maybe, it could be restored to its original glory. The stores are there except with a new, and kind of tacky, façade. I found this post
by another blogger who has fond memories of Sun Valley Mall, and he included some very nice photos of the mall and downtown Harlingen.
Could this be possible? Could MCM property owners and local communities work together with architects to restore these classic structures? I sincerely hope so.