The Echo Hotel: Timeless Perseverance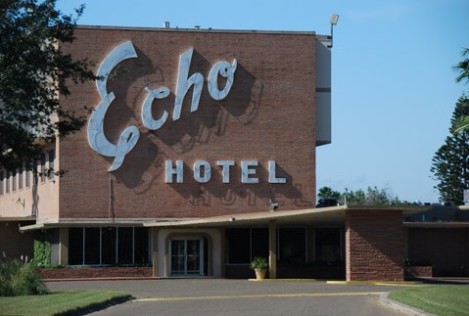 The historic Echo Hotel and Conference Center of Edinburg, Texas, is not only a full service 110-guest-room hotel that boasts an award winning restaurant , a night club, and seven banquet rooms, but it is also an epitome of the valley's opulent midcentury legacy. The year was 1959 when a group of citizens decided that it was time for Edinburg to have a premier hotel to host conferences and events. About 1,000 people bought shares and named it The Echo which stands for The Edinburg Community Hotel Organization. Today the Echo hotel has been remodeled and upgraded, and it is under the general management of co-owner Stephen Reynolds.
"Do you want to buy the Echo Hotel? My father asked me in 1989," said Reynolds remembering he could not conceive the news of the Echo being foreclosed by First National Bank. Reynolds had served as board of director at one time, and he believed the hotel was in good financial standing. But the news was correct. In a short time, a small group of investors organized and saved the hotel. "We headed out to the courthouse steps where, after a bidding war, and for better or worse, we got the Echo," stated an enthusiastic Reynolds reminiscing on the standing ovation he received from shareholders whose sole interest was not to get their money back, but to keep the Echo Hotel open. Unfortunately, these original shareholders lost their assets, and so, another chapter of the history of the Echo was written.
The 1950s and 60s brought progressive architecture to the Rio Grande Valley, for renowned architects made the valley their home and showcase. The luxurious Hotel Fredonia designed by J.N. MacCammon of Dallas, had just been built in Nacogdoches, Texas, and the opportunity to have one just like it came along; if only the community could raise half a million dollars. Edinburg citizens took on the challenge and formed a stock corporation; they sold shares by going door to door, organized contests, and sent out numerous newsletters. "There was no economic development department then," said Reynolds adding that he is not sure how the fifteen-acre property was selected, but the fact that it is adjacent to a public golf course is certainly a plus.
The Echo's success is partly due to the twelve thousand square feet of public space, the popular Grand View Dining Room, and the Tropicana Lounge. But it takes a special group of dependable employees, managed by a considerate leader, to cultivate a loyal clientele. One of the chefs recently retired after 50 years; there have only been two chefs in the hotel's history. Hotel Manager Joe Nunez has been there 35 years. Dolia Gonzalez, mother of Edinburg's Medal of Honor recipient Alfredo "Freddie" Gonzalez, recently retired after three decades of service, and her sister Aurora (Jo) Gonzalez works there since the late 1970s. "Our customers are nice people, and I've made a lot of friends throughout the years," said a friendly Jo.
"Our forty employees are like family," stated Reynolds. "I'm grateful to them because we cannot pay much. We struggle because it takes a lot of money to run this place, but we enjoy hospitality, and we enjoy serving people, especially groups." The Echo's transit customer includes a mix of tourists, people visiting family, business and work related patrons, as well as retirees during the winter. The banquet facilities and catering are the bulk of their business, for they appeal to wedding planners, business conferences, and church groups like the 500-member Antioch Community Church missionary annual trip. A travel agency and barber shop are also available in the lobby.
Unlike most new hotel's construction, the Echo was well designed and built concrete solid; it even serves as a shelter during hurricane threats. But not everybody appreciates its architectural value, for some would not hesitate to demolish it, as stated by Reynolds. Overnight rates average $50, but Reynolds believes it should be more, and if the valley was to market and capitalize on its midcentury modernism; he is probably right. Similar hotels are raking in hundreds of dollars per night in places like Palm Springs, California, where midcentury modern hotels are the undisputable choice for travelers. "People stay here because they can have a good meal, and drinks, and be close to their rooms. Most appreciate the expansive architecture, and our outdoor spaces," said Reynolds. He and his staff certainly have something going, for other historic hotels of this era struggle. The Hotel Fredonia in Nacogdoches recently closed its doors, but The Echo Hotel and Conference Center continues to partake in the history of Edinburg and the Rio Grande Valley.
For photos and more visit www.echohotel.us